Taking Home Buyers to the Next Level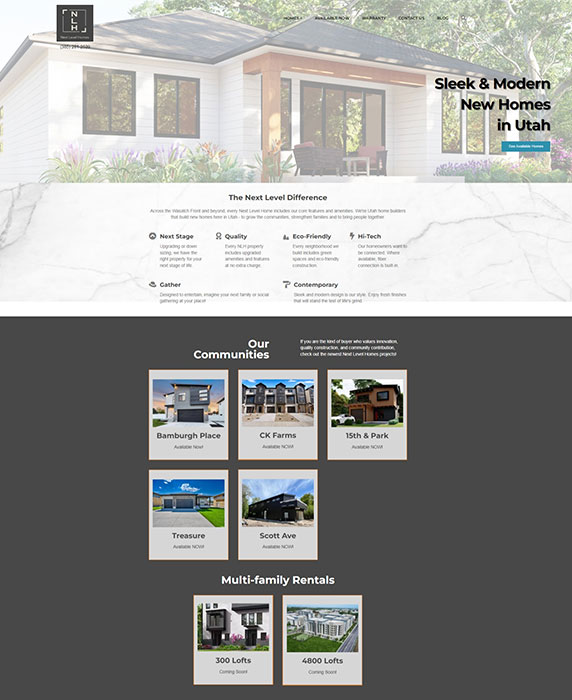 A Sleek Website for the Today's Home Builder
Next Level Homes builds innovative, high-end, residential communities and single-family homes in Utah. They needed a website that captured the quality and contemporary style of the homes they build. They wanted to shift the website's focus to suit the desires and expectations of modern home buyers.
JamboJon created a seamless website design showcasing Next Level's brand and its stunning homes and properties. Now, Next Level Homes invites potential homebuyers to enter through the front door, immerse themselves in a unique style and discover an aesthetic that matches their own personalities.
Today's home builder rarely expects a new customer to waltz through the doors of a brick-and-mortar showroom to view their options. Next Level Homes' new website design reflects the changing needs and preferences of current home buyers. It provides them with more up-front details and images about floor plans, finishes, and the surrounding neighborhoods.
This website is not only visually appealing, but flexible enough for Next Level to update and display their offerings according to the changing demands and expectations of the market. Dynamic and feature-rich, the new website more adequately responds to the inquiries of visitors and potential customers.
Elegant, functional, comfortable new website offers home buyers everything they need
Unique filtered gallery showcasing homes and communities based on user preference
 Beautiful design that shows off Next Level's gorgeous finishing touches